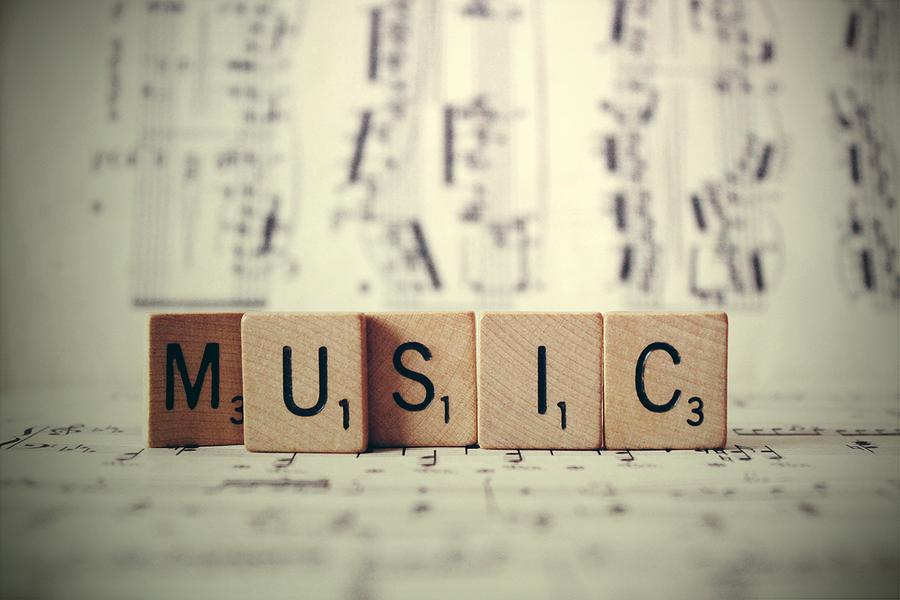 Becoming a musician is not just about acquiring a new skill, it's an enjoyable way to express yourself. You can meet new people, learn more about the history of music, discover more about yourself – your likes, your strengths, your abilities and nurture a lifelong love, or even career in music.
Our team of music teachers are fully experienced musicians and are all seasoned performers in their own right.
Lessons follow a structured syllabus format including, but not limited to, Rockschool, Trinity, Guildhall, ABRSM, London College of Music and RGT@LCM.
Riverside Studios offers a fun, relaxed and supportive environment where students can begin to get the most out of their instruments and hone their practical skills. No matter your age, ambition, level or chosen instrument, we offer a range of classes to suit. If you have an interest in something a little unusual or obscure, get in touch – we have a vast network of musicians and can probably source a teacher who can help.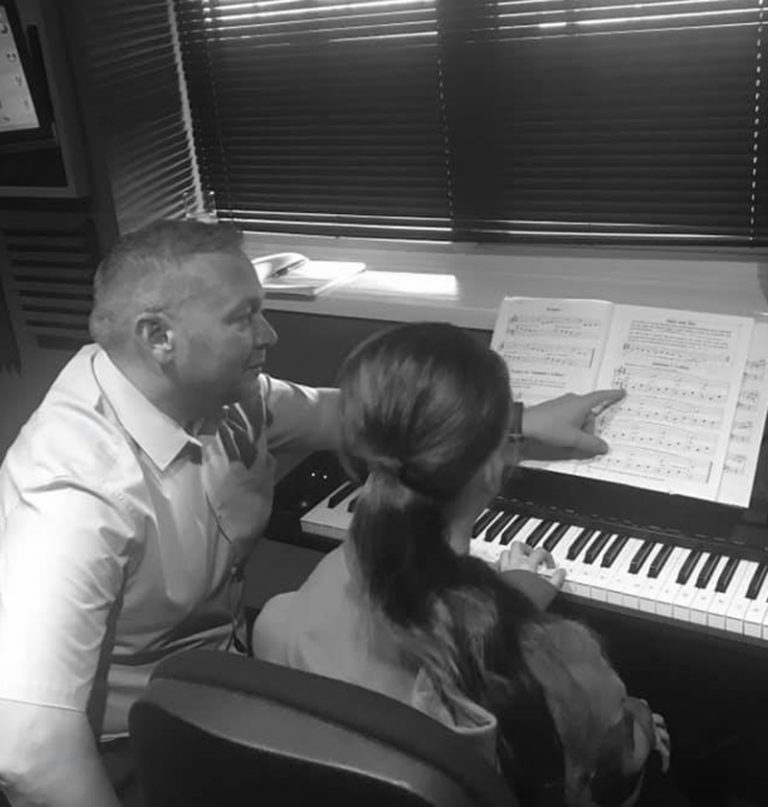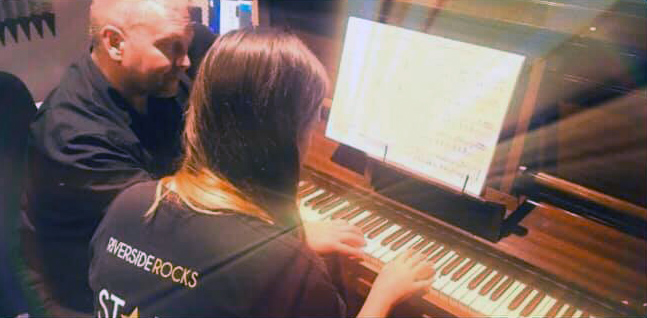 Piano & Keyboard Tuition
with Chris Watts
First, we need to understand your current abilities and what it is you'd like to achieve, so our piano/Keyboard induction session are a great start for us to learn about you. Whatever your standard, the initial first lessons will explore your understanding of the instrument and help us shape out a program of practical lesson plan tailored to your specific personal goals.
Beginners will study the fundamentals of keys, including the notes on the keyboard, scales, chord progressions and key signatures. Students will practice correct finger placement, hand and sitting positions and will learn about musical terminology and how to read piano music. The course will help to develop improvisational skills by exploring a wide variation of musical pieces.
For the more advanced students, or for those looking to progress further, attention will be paid to advancing knowledge on musical theory and musical terminology. The course will be more technical and comprehensive, examining chord progressions and key signatures to strengthen understanding and improvisational skills.  Once students are confident and ready we set to work on exams with ABRSM- we will put together a syllabus and support program which will see you through your exams
For those wanting to learn the instrument for fun or as a hobby, our lessons are friendly and fun, for all ages. We cover as much of the above that is desired, whilst learning to play your favourite songs on Piano or Keyboard.
We cover a vast repertoire on music from Classical, Musicals, Vintage, Jazz through to current, working towards live performances and concerts, and once your favourite piece is perfected, we'll record it for you to keep to show your progress!
We offer a 30 minute 1:1 class per week, secured as a block booking per school term.
Prices
Induction Class (30 Mins) - £15.00
30 Minutes - £20.00
CONTACT US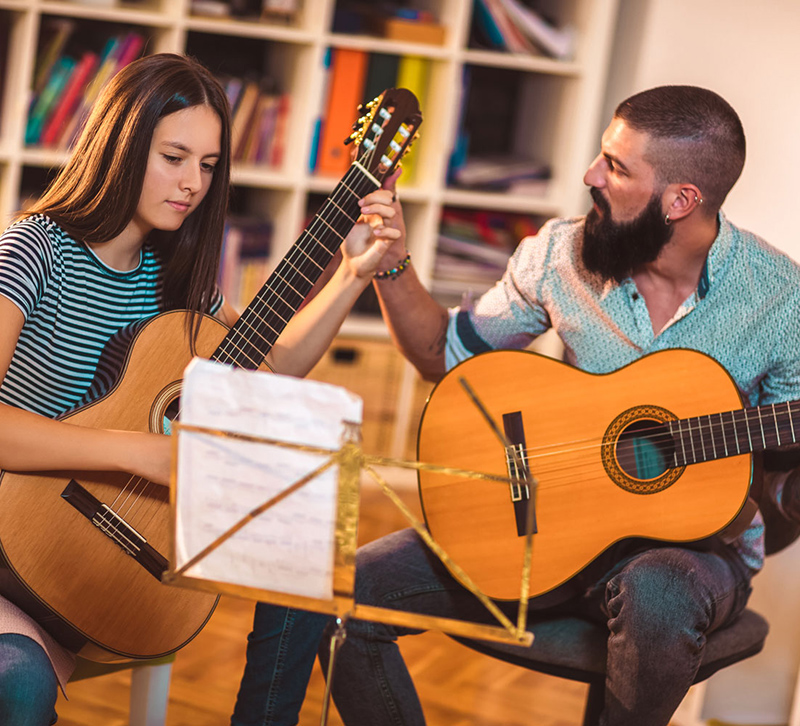 Guitar Tuition
For those completely new to the guitar, a beginner's course is the best platform for learning how to play. You will be provided with the musical knowledge, correct techniques and primary skills which will give you the best foundation to build on your guitar-playing abilities.
A beginner course will cover how to correctly hold and tune the guitar, fundamental guitar chords and transitioning between them, how to interpret rhythms and guitar tablature, as well as how to approach learning a song. It also includes an introduction to strumming, strumming patterns and fingerpicking.
An improver course is ideal for those who have completed our beginner course, or for those with a basic understanding of the guitar looking to learn more complex chord sequences and techniques. Whilst incorporating an overview of specific genres such as Blues, Classical, Folk, Rock and Pop, this course explores correct technique and theory of Barre Chords, two set songs, chord and melody embellishments and a brief introduction to scales and improvising.
CONTACT US
Drum Tuition
Our drum classes and courses are suitable for all ages and abilities, from beginner to advanced. As each program is created with the student in mind, the syllabus will reflect each individual's chosen path and will be tailored around current skills, personal learning patterns and drumming goals.
Each tutor covers a wide range of musical styles, including Rock, Latin, Jazz, Reggae, Hip-hop, Funk, Metal, and many more. Lessons are taught using electronic drum kits, though acoustic kits can be arranged if preferred - and arranged in advance.
Courses will focus on drum loops and patterns, reading and notation, coordination and hand/foot techniques, as well as musicianship and showmanship on the whole. You will learn a variety of practice techniques, solo and band playing and explore groove, time and rhythm. You'll also discover how to record drums and beats.
CONTACT US